How to distinguish between ash and ash furniture? I understand the main points and it is easy to dis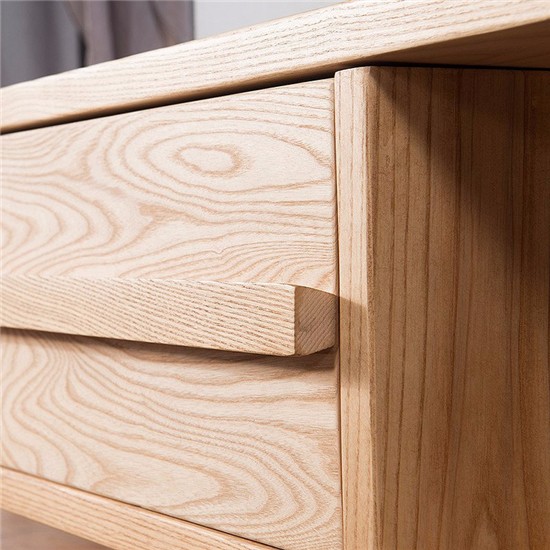 1. What is ash and what are the characteristics of ash?

Is a genus of genus, genus. Mainly distributed in North America and parts of Europe. The wood grain is obvious and coarse.
characteristic:
1. Easy to cut tool processing, polishing, anti-corrosion.
2. Wood compressive strength, static bending strength and tensile strength are large. This wood is usually straight and has a rough, even texture.
3. Good processing performance, can be fixed with nails, screws and glue, and can be dyed and polished to obtain a good surface. Applicable to American high-end furniture, flooring, solid wood coat racks, architectural interior decoration, etc.
Second, what is ash, what are the advantages of ash?
Is a genus of wood, alias, northeast scorpion, ash. The ash material is tough and has a beautiful texture and is a deciduous tree. Distributed in North Korea, Japan, Russia and China's Shaanxi, Gansu, Hubei, Northeast, North China and other places, the annual rings are obvious but uneven, the wood structure is thick, the texture is straight, the pattern is straight, dull and the hardness is small.
characteristic:
1. The ash has the characteristics of elasticity, toughness, wear resistance and moisture resistance, but it is difficult to dry and easy to warp.
2. Good processing performance, but should prevent tearing. The cut surface is smooth, the paint and the adhesive property are good.
3. The biggest feature is that the wood grain is clear and beautiful, easy to process, with high toughness, good coloring performance and good decorative performance.
Third, how to distinguish between ash and ash
Many furniture shopping guides will deliberately confuse the two so that consumers can't figure out the mind, thinking that the ash is ash, and reading the characteristics of the two above, we can know that there is a similarity between the two, that is, the same raft Branch, but the two are not the same species.
* Ash is mainly imported from Europe, and ash is abundant in Northeast China.
* Ash is high-grade wood, and ash is medium and low-grade wood.
* The ash wood floor feels soft, even in the winter, it gives people a warm feeling.
* Furniture can be made entirely of pure ash, but ash can not, its deformation shrinkage is large, suitable for small pieces of furniture.