Modern minimalist home, simple and generous, soft and easy to match!
Author:Tengyi Furniture
Release on:2019-06-13
The new home decoration has chosen a minimalist style, whether it is hard or soft, it will bring minimalism to the extreme. The layout of the whole space is simple and clean, clean and refreshing. The simple and elegant interior layout gives people a sense of tranquility that returns to nature, so that the heart is followed by silence, so farewell!
Full view
The interior decoration of the new house, except the TV wall brush is gray, the other walls are completely shaved; the ground floor is fully paved with wooden floor, supplemented by simple and generous gypsum board ceiling; the indoor lamps are unified with small downlights instead of chandeliers, and the whole space is simple and neat. Comfortable and generous.

living room
The L-shaped fabric sofa is placed against the wall, with solid color pillows and gray decorative paintings. It is simple and comfortable; the living room balcony is directly connected to the living room, and the whole space is spacious and bright.
Kitchen view
restaurant
The layout of the restaurant is simple and generous and young and petty, creating the ultimate beauty through minimalist layout.
kitchen
The kitchen balcony is directly opened, the console extends all the way to the floor-to-ceiling windows, and the other side directly vacates the washing machine. The white cabinet is complemented by a wooden floor with waxed oil, and a large floor-to-ceiling window is spacious and transparent.
Master bedroom
Master bedroom
Second bedroom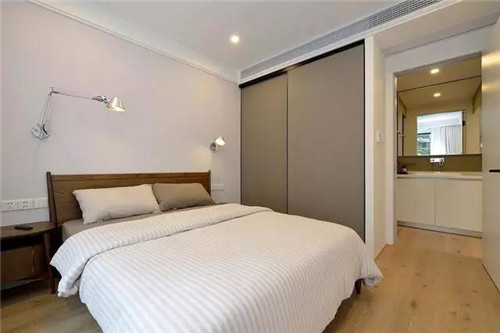 Guest bedroom
The three bedrooms are decorated in the same way, and they have been minimalist, with large white walls, sliding door wardrobes, gypsum board ceilings and small downlights. The overall layout is simple to the extreme, but the texture is full and quite eye-catching.
Bathroom dry area
Wet area
The washing platform is directly external, and the floor of the shower room is raised to form an independent space. The overall layout is distinct and simple.
The main content of the article comes from the network, if there is any infringement, please contact delete, thank you!